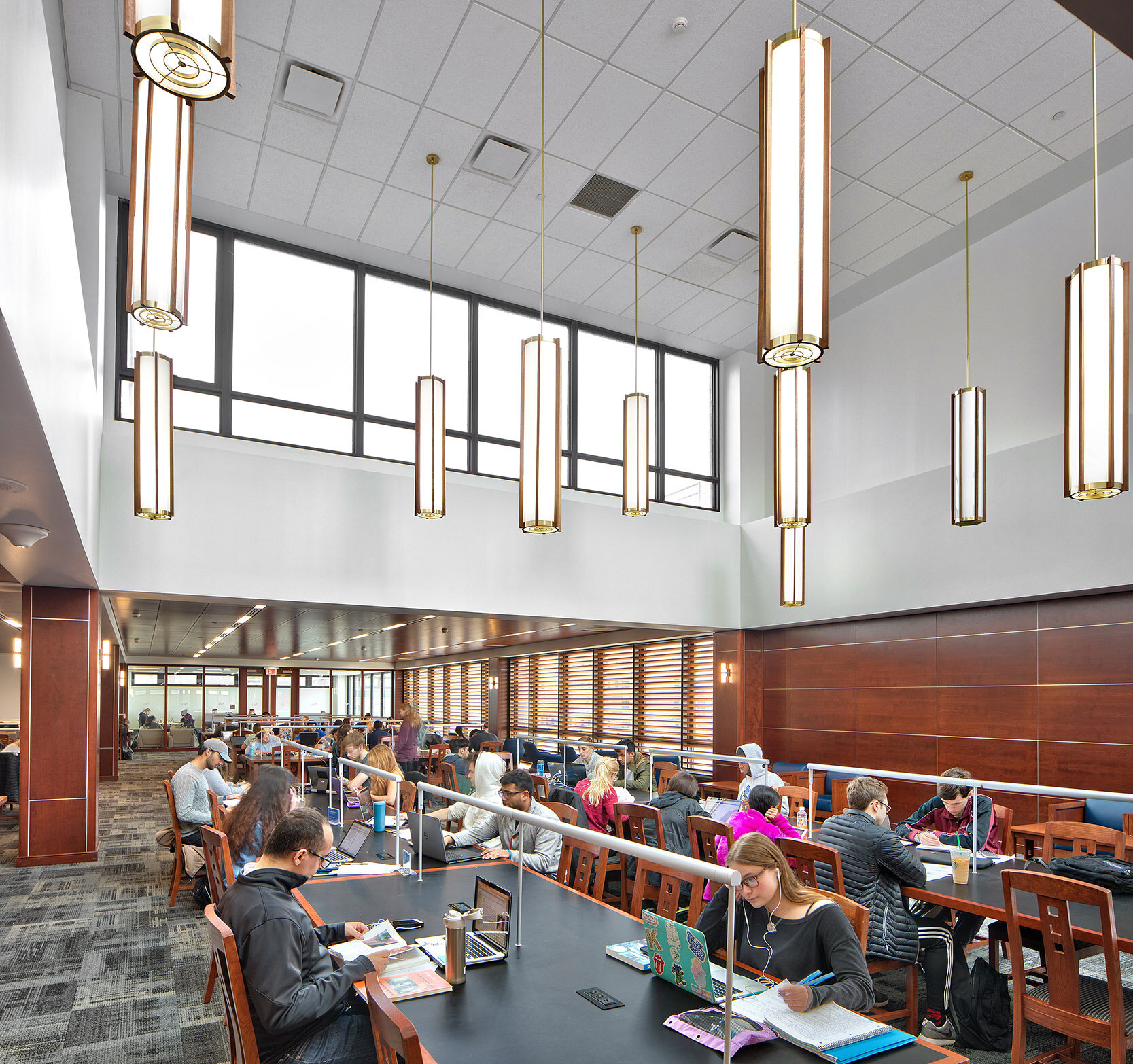 Capen Hall HOTC
University at Buffalo SUNY
Design Architect: Perry Dean Rogers Partners Architects
Architect of Record: Architectural Resources
Location: Buffalo, NY
Total GSF: 46,000 GSF Renovation
Completed: 2014
Perry Dean Rogers, in collaboration with Architectural Resources of Buffalo, worked to develop a plan for the renovation of the Oscar A. Silverman Library at the University at Buffalo, NY. This renovation was part of a larger effort consisting of several phases referred to as the UB "Heart of the Campus" project.
While the library exists on multiple floors of the Capen building, an imposing 1970s brick structure situated centrally on the University's North Campus, the renovation was limited to the 3rd floor and a small portion of the 2nd floor. The goals for the project were to transform the outdated and inefficiently utilized space into an inviting, forward-thinking learning environment.
More specifically, Perry Dean was tasked with creating a central hub for the student body to interact and develop a sense of community, providing a variety of study spaces ranging from quiet, individual study, to active, collaborative group study, and prioritizing access to technology throughout the floor by providing a dedicated "cybrary" area, media editing suites and one-button studios, and power connections incorporated into every table.
The overall strategy was to delineate "neighborhoods" to break down the large floor plate providing common amenities at all quadrants of the floor. Amenities included open study tables, enclosed group study rooms with technology walls and writable surfaces, and lounge study chairs. This allowed us to give structure to the expansive space while maintaining a sense of openness and connectivity.
Superimposed over the "neighborhoods" were three zones corresponding to the level of activity (noise) taking place in those areas. Larger solid blocks of enclosed program (restrooms, classrooms, support spaces) organize the plan, while the deliberate use of color denotes each zone. A large reading room anchors the plan on the southern portion of the floor and provides a dedicated area for focused and quiet study.
Photography © Gene Avallone